When I look at the vast field of HR, I have to say that I am swayed to the power of Culture more than other facets.  I truly believe that people decide to either stay at a company or leave it because of its culture.
Cultures vary with each company that exists.  In fact, you could even note that each department within a company has its own culture.  With so many different environments, it seems difficult to think that we keep trying a "one size fits all" approach and think that it will work.  There are too many factors to take in, and it's honestly exhausting to try to make everything fit.
In the past, I thought that changing the culture in an organization was the answer.  I fell into the mythical trap that things can only get better if things are viewed as wrong and then fixing them.  That is extremely presumptuous when you step back and think about that.  To think that a culture can only improve if it's first destroyed devalues all that has been in existence before you were part of that culture yourself.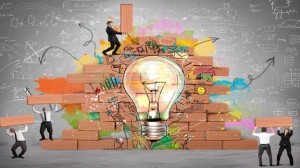 This week something hit me like a ton of bricks.  It was an actual Aha moment !!  What if you built your culture instead of changing it ??
You may argue that this is semantics, but I don't think it is.  Building a culture is working from the environment you currently experience.  I'm not saying that everyone has the best culture, but it is what you have to work from.  If you have a construction approach and not a destruction approach, you can see where there are opportunities to build.  Think of how healthy you would be as an HR person if you were adding to things instead of limiting them or tearing them down.
You need to understand that this is contrary to how we currently practice.  We are doing way too much justifying and reporting in our roles.  Reporting is important, but reports exist because of results.  Without actions that generate results, your reports are shallow and mundane.  If your focus were to evaluate, take some measurements and see how areas of your culture could be enhanced and improved, imagine what could happen !!
We are always looking for ways to enjoy what we do, and this can be the start of building our profession to be even better.  It takes some risk to see things positively and differently, but it's worth it.
So, this week strap on your tool belt and your hard hat.  There are cultures out there where you can be a builder !!  They've been waiting for you to get started !!
Image courtesy of People Matters (one of my fave blogs !!)