This weekend, my son took a giant step of leadership and initiative !!  He began work on his Eagle Scout project.  He started building a shed to replace a POD for the Animal Friends Humane Society who currently has to pay to have the POD for food storage for the animals.  The project is massive, but he is more than able to take it on.  Have to say the "proud father" tears often swell to the surface when I think about how amazing he is !!
One of the keys in doing a project like this is that you get first-hand experience on when things go well . . . and when they don't.
Josh had ordered the shed from one of those big box hardware stores and everything was scheduled to be delivered on site (a mile from the store) the Friday before his first workday on Saturday.  We stopped by the store on Friday night just to make sure that everything was ready.  The shipping supervisor looked a bit confused and dumbfounded when Josh asked about the delivery.  It looked like it was "supposed" to have happened, but another employee hadn't entered the firm delivery in the computer, so it didn't exist.
Another key to an Eagle Scout project is to adapt.
Josh asked if we could compromise and get a rental truck and get some of the material to make the shed's base and floor for the next day because people were scheduled to come and help.  The store agreed and waived the rental fee for the truck and apologized for the mistake and confirmed that they could deliver the remainder of the materials on Sunday.  Josh added an extra work day, but still moved forward.
On Saturday morning, we arrived to get the rental truck and pick up the material for the floor.  We were directed over to the lumber yard, and we were the first customers for the day.  A young man in a Security shirt came out of the guard shack and the following happened.
Guard:  May I help you?
Steve:  We were told to come back to the lumber yard to get material.
Guard:  Sorry, we're closed.
Steve:  What ?! (confused and frustrated from the original delivery being mixed up)  They told us to come back here.
Guard:  Sorry, they must have told you the wrong information.  We're closed.
Steve:  But we need to get the lumber.  You don't understand, we have people . . .
Guard:  It's okay.  I'm just messing with you.  We're open.  Come on in.  Can I help you get to where you need to go?
We busted out laughing !!  The young man saw that we were in a hurry and had to "get things done."  He noticed we were missing out on starting the day getting some material to do some project.  We weren't there to enjoy the experience and he was supposed to just do his job.
The thing is – he was doing his job better than anyone could have imagined !!  He chose to take a rather mundane job (checking people in and out of a lumber yard ALL DAY) and make it enjoyable.  I loved his creativity and told him that I appreciated his approach.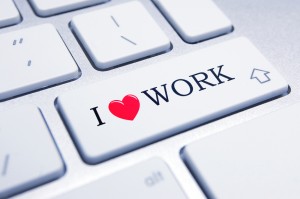 I'm sure if typical supervisors had seen this interaction, the guard would have been coached if not disciplined or terminated.  We want people to WORK and be productive.  We have spent years beating the passion out of people, and yet we expect them to bring the workplace to life through their jobs.
I had to come back later Saturday morning, because you always have at least 3 return trips to hardware stores during a project, and I saw the guard again.  I couldn't resist, so I said, "I see you're open now !!"  He didn't miss a beat, "Yeah, you just caught us because we were closed ten minutes ago."
HR needs to take note to give employees permission to love what they do and who they interact with.  Work would be a better place if we looked at how to make people smile in what we do regardless of our role.
That young man made our day !!  I'm sure glad he was "closed" !!