The workplace is an interesting ecosystem. Not one of them is the same. However, I feel that workplaces fall into one of two categories. They are either vibrant and evolving, or they are a stagnate quagmire. Which one do you think happens the most? This isn't an "it depends" answer. We are surrounded by bogs that keep people stuck in doing things over and over and over and over and . . . you get the point.
How does this happen? Well, unfortunately HR is a significant contributor to the muck and mire of the workplace. I know that I've been this person in the past. I also am sure their are peers of mine who revel in the practice of penning incredibly layered policies and procedures with the hope of control. Let me explain two things – "control" in the workplace is an illusion. You can't dictate behavior and action by words on a page. Secondly, we live in a day and age where 140 characters can literally change the global landscape. However, HR still lives as if we're monks in an ancient medieval candle lit monastery using ink dipped quills to etch policies into parchment that will last for eternity.
We need to not only quit practicing in the past, we need to lead into the future. To do that, let me suggest using the "so that" approach. Too often we create and implement policies and procedures as a hasty reaction to some fringe situation that could have been addressed directly. We then end up with systems that we can't/won't enforce, and nothing changes.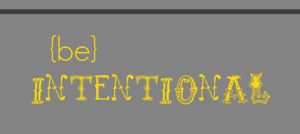 "So that" gives context to what you do and/or write. If you can't give context as to why you're doing something, then DON'T DO IT !! If you use "so that" in your approach, you'll see that you can reframe how you practice HR and move your workplace forward so that you no longer remain stagnate. This means being intentional in your actions, but it is what your organization is yearning for !!
Let me give you the "so that's" that I use and see which ones you can take and implement yourself.
Expect the best in others and tell them that they rock SO THAT they know they have the ability to add value in all they do.
Pay attention to the majority of your employees who do their job well SO THAT you stop creating policies that focus on the few.
Spend time with employees from all levels of the organization SO THAT people know that HR is available to everyone from the C-Suite to the front line.
Go to HR conferences and events for professional development SO THAT you stop going just to get recertification credit hours !!
Network and connect with other HR professionals in person and on social media SO THAT you don't have to keep trying to do everything on your own.
I have many more that I could list. The key to making this approach is to understand that making what we do a positive contribution is essential. Take heart knowing that HR can, and should, move the organization SO THAT all that we do has value !!