If you're a member of my immediate family, then you know that this time of the year is occupied with one thing . . . basketball. I grew up playing myself for years and when I got married, my amazing wife came to games I played as an "adult." I started coaching local teens before I had kids of my own and then they started playing !! Our daughter played through high school and our son played through elementary school.
Layer on top of all of this frantic basketball activity we're avid in-person and TV basketball watchers. We became fans of Xavier University living in greater Cincinnati. For years we were fortunate to go to games at the Cintas Center and we loved every moment. Throughout the college basketball season, one game or another is sure to be playing. My wife has even mentioned she's often a basketball widow. It's taken her decades to understand the nuances of the game, but now I'll hear her scream, "That was traveling !!" It warms my heart.
During the NCAA tournament, nothing else is on TV. Nothing. We watch teams we cheer for and also ones we don't know. We have a family bracket (of course) and more often than not Debbie wins (the one who never played.) We're glued to every result and we exclaim disappointment and angst when any of our picks are wrong. They are inevitably wrong because it's nearly impossible to choose the winner of every game. When a lower seed upsets an upper seed there's added excitement even when it busts your bracket.
In fact, we love when the underdog surprises the favorite and wins. I especially like it because the sportscasters become flummoxed and tongue-tied. They are at a loss for words because they've been conditioned to primarily focus on the favorites. The networks also appear to do research and stats for the bigger programs and schools of note. The cynic in me also feels the networks want the favorites to win because that means more people watching and bigger advertisement dollars.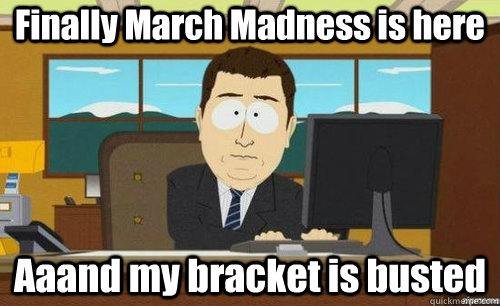 This makes the win of bracket busters even sweeter. The lower seeds are filled with talented players. They may not be future NBA superstars, but any athlete who has the skills to play at the collegiate level is more talented than most. It's great to see the players who are on the teams who caused the upset talk because they ALWAYS talk about their team as a whole. Always. This is true even if one or two of their players excelled more than the others. There is a team mentality that makes them more cohesive and effective.
I believe we should have the same mentality and approach you get from the bracket busters in the workplace. Every employee who you work with is talented. Every. Single. One. Bringing employees together as a collaborative team is what we should strive to build. It's great if you get a few people who may have a stronger skillset in one area or another, but they perform even better when they're part of a larger team.
We need to move away from focusing primarily on a few people and see how each person can thrive and move the organization forward. Start making the effort to pull folks together into teams throughout your company. Make a group of bracket busters and see how you unlock the talent that is already present !!