When I went to high school . . .
(Yes, I know I sound like my Dad, but hang with me)
. . . you used to write notes to people to get their attention. It was like a spy movie because you didn't want to get caught, or have someone read it who was not the intended audience. People wrote notes so often that some came up with their own "language" so that any intercepted notes seemed like gibberish. You always were hoping to get a note because it meant that someone wanted to communicate something cool, or ask you do join them in some activity. There were countless people who made dates this way and probably became people's parents !!
Writing a note takes thought, intent and emotion. You didn't want something to be seen as dull or meaningless. People weren't careless with notes. Sending a note took some risk to put yourself out there because you weren't sure what the response would be.
Flash forward to today. Now, if someone sends you a message electronically, they expect an answer almost before you actually send it. If someone doesn't respond, we think the worst possible scenario for the reason(s) we were shunned. Electronic messages are also often not reciprocal. Tons of people post, snap, tweet, etc. about their lives and don't really care if others do the same. Oh, we long for the affirmation like or emoji to our posts, but 90% of them are about ourselves, our experiences, or our interests. I'm not bashing these messages because I'm as active as the next person when it comes to being visible on forums.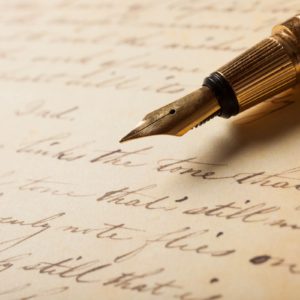 I miss the days of notes because they were going TO someone and asking them to be involved. There were also notes that would tell someone how you felt about them, and some were even notes of encouragement. I played basketball all throughout my Jr. High and High School years and I had a secret person who would write notes before each game to wish me luck and that the team would play great. Every player had these spirit sleuths for each sport. It was amazing !!
Today's society, and workplace, yearns to be more "human", but we don't incorporate personalization much at all. We're so concerned about being politically correct, that we've ceased sharing "notes" with people to encourage them in their work and take steps to see the best in what they do. I'd like to see that change.
HR needs to come to terms with the fact that workplaces will never become more human unless HR becomes more human itself. Never. I get a sense that all employees are longing for a genuine connection and path to engage with someone with whom they work. So, I encourage you to step in the gap. You may not be the final connection, but you should be the person who initiates this and starts the process.
This week, send a note to someone. It would be awesome if it was handwritten !! However, if it's electronic, make it a note. Check and see how someone's doing. Write someone and tell them how much they make a difference in your life and the lives of others. Be positive and encourage others on purpose.
Then . . . send another one.
Keep doing this until it becomes a habit. Be a person who's willing to break through the mire of negativity and the noise of the endless rush of life and send a note. When you do, you will change the direction of someone's day. It may be the exact thing they need at the right time.
I need to go now because I have some notes to write.