This past week my family, along with many others, celebrated Thanksgiving.  I am still a traditionalist when it comes to the holidays and their order.  Gathering together over food is always a good thing, but what drives it home for me is that we normally do it around people. These people may include relatives, friends or even acquaintances.  More often than not we feel recharged and refreshed after spending time with each other.
Then, we return to work and that level of enjoyment and intimacy dissipates so fast that it can't even be tracked.  We are surrounded with another group of people who drive home the mantra of "get things done."  Don't get me wrong, productivity is essential for the success of businesses and our own personal careers.  But getting things "done" almost completely eliminates the interaction of the people around us.  We skim across the surface of everyone picking the one or two items needed to move our work and projects forward because spending time with them personally would be viewed as inefficient.
Don't believe me?  There are entire books and conferences dedicated to this.  People flock to these forums and love the "take aways" they get from power points, flash drives or tool kits.  However, the best resources they could have found were sitting next to them.  Those resources were ignored because they are people we don't know, and we could be seen as too forward if we reached out to get to know them.
I happened to check an e-mail while I was off for the holiday from a friend and it crushed me.  She wrote me to tell me that she was thankful for me because I had made an introduction to her back in 2009 that literally saved her business as a sole proprietor.  I couldn't believe it.  She went on to say that this connection has continued to lead to business opportunities to this day.  She didn't want to miss the opportunity to say thanks.
It led to me to think this . . .  Who we affect is far more important than what we get done !!
In HR we have the chance, and the obligation, to positively affect all of the people around us and not just wait for the holidays to recharge ourselves around those we know better.  We can dive past the façade of surfaces and spend time to get to know the people who make work come to life and drive productivity.  It's time for us to remember that work happens through people and not in spite of them.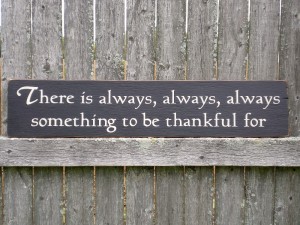 So, I'd like to start something that I hope you take forward.
I'm thankful for YOU !!  I'm thankful that you've chosen to read this blog.  I'm hopeful that we are connected, and if we aren't, I'm hopeful that we can become connected.
I'm thankful that you're involved in some way with HR and people.  It is a challenging field, but it is also one of the most fulfilling careers a person could ever pursue.  You have the chance to interact with humans everyday, and you never know how your interaction may deeply impact them.
Here's how to move this forward.  Be like my friend and thank someone who has impacted you.  Don't wait for the perfect moment or a particular setting.  Reach out today with a note, a phone call, an e-mail, or something you know will matter to them.  Watch what happens.  See how you will be recharged each and every day.  You won't have to wait for that next holiday.  You'll see that being Thankful is a fantastic state to be in all the time !!