This past week I went to the SHRM Leadership Conference in Washington, DC.  It's one of my favorite events because the SHRM local Chapter and State volunteer leaders come together to network, learn and share great ideas on how to get HR pros connected, engaged and involved.
The past few years I've started the week by advocating in front of the Senate and the House of Representatives on legislative issues that affect business, employees and HR.  I broke away from our larger Ohio group to support one of our other Ohio SHRM volunteers because she had never advocated before, and I wanted it to be a great experience for her.  As we were walking over to the Congressman's office, she said the most poignant thing.
"You know I can't believe I'm here.  Most of the time in my role I find myself with my head down doing my HR job.  I need to keep my head up more to see all that is around me.  I would miss great things like this if I didn't try to be more aware."
We had a great session with the Congressman's staff and shared our position on the issues.  When we were done, she wanted to go over to the Senate offices as well to see them.  As we entered the building, I noticed several cameras up on the 2nd floor of the rotunda we had just entered.  I said, "Let's go see what's happening !!"  So, we walked up confidently and saw a press table outside the Kennedy Caucus Room and it was packed with people.  The folks at the table asked if we'd like to go in, and we jumped at the chance not knowing what we would find.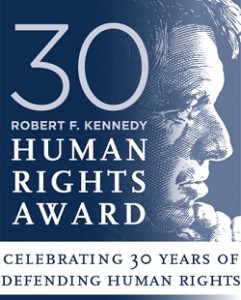 In the room we stumbled into history . . . literally !!  We were able to see the 30th Annual Robert F. Kennedy Human Rights Award being given to Egyptian Human Rights attorney – Ragia Omran.  The event was emceed by Soledad O'Brien and we heard RFK's daughter, Kerry, speak about Ms. Omran's accomplishments and the actual award was given by Ethel Kennedy – RFK's wife !!  It was amazing that by "keeping our head up" and taking a risk to see if we could be involved, we saw something we NEVER would have seen if we were just stuck on following the patterns that were set before us.
This experience was just another example of how I feel HR should be ALL the time !!  Too often we are criticized because we think that by keeping a narrow focus we are diligent.  The fact is that by being narrow we can miss what's happening with the people even though we're cranking out the tasks laid before us.
There has to be a mix of these two worlds.  You can, and should, be diligent in your HR practice.  However, your perspective should be as broad as possible because the great people you work with may have the insight, input, or knowledge you need.  You can't keep your head down any longer !!
The rest of the week was even MORE eventful than our experience in the Senate !!  I'm even more geeked and energized about HR, my profession, my volunteer role and SHRM than I ever have been !!
I hope you join me as we look to the horizon to see what's next.  It will be awesome, I'm sure !!