This past weekend I happened to travel. I've come a long way personally when it comes to trips. I used to get very anxious about almost every aspect from finding a place to park at an airport to talking to a desk clerk at a hotel. It's not rational. I know that. I've mentioned in the past that I'm an uber-extrovert. I easily approach folks and find it energizing to meet strangers and get to know about them. So, the anxiety I experienced while traveling was even more troubling because in every other situation I rarely hesitate to interact with others.
Over the years in my volunteer roles with SHRM, I had to face my anxiety more and more. As I took on larger positions, travel became much more regular. Fortunately, I have a dear friend who was patient with me who taught me how to have confidence during my travels. I learned how to not get overwhelmed and started enjoying the time I had in airports and in new geographic locations. Now, I'm at a much different place because I've put in place some simple patterns I follow to keep things in order. You have to understand that this is a giant challenge for me because I tend to be carefree and spontaneous.
Since I'm more at ease with travel, I've slipped back into what I normally do – observe others. I'm an avid people watcher !! People fascinate me. I love seeing how everyone is unique in their appearance and their approach to traveling themselves. The vast majority of people have a destination mindset. They will do all they can to get through security quickly and without incident because they don't want to slow down. Once they've cleared this first hurdle, they keep their head down and their pace increases as they dash to their gate. If anything inhibits people, they will audibly huff, groan or sigh. They only care about their destination and everyone else is honestly seen as being in their way.
I get it. I see the anxiety and stress on the faces and in the voices of my fellow travelers. I'm not judging because there are so many factors that can upset your plans. You're hoping for each moment to go smoothly, and you convince yourself that something will go wrong. Unfortunately, it can. The volume of people who are traveling is only increasing and many of the systems are over capacity or not modernized. Also, not one airport is the same. There is variety in how everything is handled.
Because I know my triggers, I've learned to be more patient with other travelers. I've also decided to show grace, appreciation and thanks to those who help us along the gauntlet from the parking lot to our final destinations. The employees on the travel side get bombarded with all of the people who are wired and on edge. They deserve to be treated well instead of launched upon. Many of the delays and idiosyncrasies that pop up are out of their control.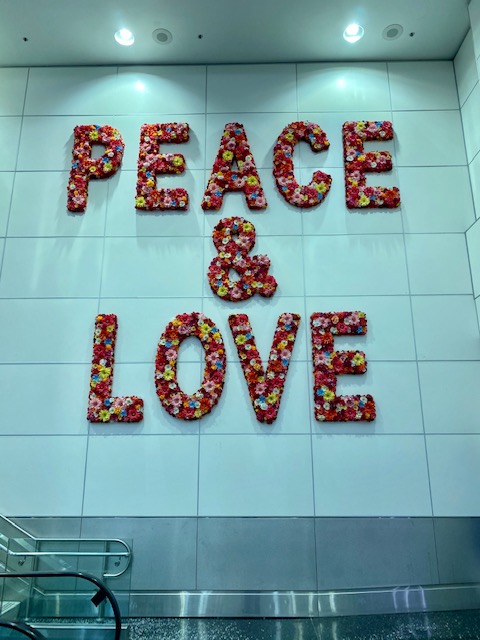 This past weekend I noticed a piece of art which captured who I try to be and how I thought I'd travel. I've seen it in the past, but it truly caught my eye this time. I'm sure I've missed so much in airports, hotels and even the towns I've gone to because I was focused on arriving more than enjoying the journey. That's a shame. It truly is.
I've been doing my best to keep my eyes and ears open so I can take in the experience around me far more than worrying about where my gate is. I've found that it's lowered by stress, anxiety and probably my blood pressure. I don't want to miss the people, sights and interactions that swirl around me. I am now embracing the pace with all of it's chaos.
It's a great reminder to use this same approach at home with my wife, at work with my peers and out in public. This week I hope you slow down and calm down. Life is short. We casually say this all the time, but we don't take steps to do anything about it and savor where we are and who we're with. Change that today. Our lives can be full and abundant if we embrace the experience during all of our travels as well as our destinations !!