Disclaimer – (all good HR people know how to do these . . .)
The following post may seem like name dropping, but it's not.  It's about the value of getting to know the people we choose to follow and be connected to.  If that makes me a "clique" former – so be it !!
Now for the post:
Last week the coolest thing happened !!  I received a DM on Twitter from Bryan Wempen asking me what my day looked like. I was a little confused by this since Bryan is normally in Tulsa, OK and I'm in Cincinnati, OH, but I responded.  Turns out he was in town and wanted to see if we could get together. To say I was GEEKED would not give this enough credence !!
Bryan is someone I met through Twitter and also through his incredible blog radio show, Drive Thru HR, which he co-hosts daily with another friend – William Tincup.  We went to our Boudinot location for LaRosa's and had some great conversations over great pizza !!  I learned more about him, his family and great stories about career, college, etc.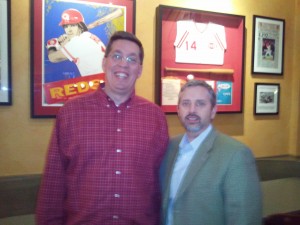 You see, Bryan was inadvertently helping me reach a goal I set for myself for 2011.  I want to meet as many of the people I'm connected to as possible in real life !!  I think this really matters.
I think HR people in the Social Media space are struggling with "what's next?" when it comes to where things are going.  The piece that's missing is that we long to really know each other.
Coming up in the next few months, I get to go to the Northern Ohio HR Conference to present and catch up with Joe Gerstandt as well as 100's of other attendees who may/may not be involved with Social Media.  Also, in April I'm going to HRevolution 2011 and couldn't be excited enough to meet others that I read about, learn from and communicate with.
There's more to come in 2011 including the Ohio HR Conference in September where I'm fortunate enough to be this year's chair !!
I feel that too many HR people keep their heads down when they go to great events like these and worry too much about HRCI credits, where to sit in the room and if the person sitting next to you is going to "bother" you by tweeting instead of listening to the speaker.
Time for this to stop !!
The GREATEST resource at these events are the people sitting next to you, the people in the exhibitor halls and the people milling through the halls !!
So, no apologies.  I plan to meet ALL of you – and I can't wait !!