I've never been someone to sit on the sidelines. Whatever the situation or opportunity is, I tend to fully jump in quickly. I may make a quick assessment of what is going on around me, but I guess I feel more comfortable diving in than waiting around. I am not the kind of person who waits for "just the right time" to get involved. Most of the time, things have worked out well by following this approach. There have been a few misses. I'm sure that's going to occur if you are someone who also jumps in.
The reason I have always leapt first is that I've been surrounded by others who did the same thing. My parents were always active at home, at our school, our church and in the community. Those I was close to were also people who felt more "complete" the more they were involved in a variety of groups and activities. The model was community and involvement. I rarely remember a time when we weren't in situations involving several people coming together.
I describe my time in high school as being involved in almost every extracurricular club that was offered. The clubs ranged from athletics to academics to the arts. In most of the groups I participated in, I also took on a leadership role. I wanted to be in a position where I could encourage others and get them geeked about their involvement in the club as well. This same approach continued through college and throughout my career.
Over the years, I've been a volunteer leader in HR, for our zoo, in my church, in our kid's schools and sports teams, and in Boy Scouts. Each time I ventured into a new group, I became more and more motivated by the new people I met. I have treasured getting to know peers in my profession, kids and their families and other great people from all walks of life.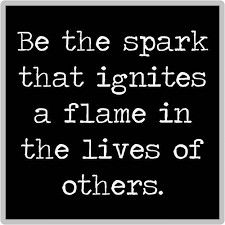 You see, I don't view leadership in these activities as being "in charge" of anything or anyone. I see them as being in a position to be the spark someone needs to unlock their talent. It's been key to see each person who is engaged in groups be valued, acknowledged and seen as talented regardless of their role or level or participation. People want to do their best and have a genuine opportunity to participate. They became a part of a group to be included and not overlooked. It's astonishing to see what happens when you see someone's spark turn into a flame and hopefully into a full-blown passion.
I've seen kids who never thought they'd succeed in sports play with intensity and drive because I believed in them as their coach. I've seen scouts who would never speak in front of a group grow, develop and become leaders in the Troop and in their community. I've seen HR peers become stronger businesspeople that moved from being transactional to strategic within their organizations. The list goes on and on because I was willing to be a spark in their lives.
I list these "accomplishments" purely as an analogy. You can also be the spark in others' lives. Think what our organizations would look like with you as a firestarter that viewed your employees as the immense talents they already are. With your attention and encouragement, you could unlock a passion that has yet to be revealed.
People want to go through life filled with passion far more than you realize. All they need is someone who believes in them. YOU have that ability to be the spark in all those in your life. You need to know this !! This coming week as you head to all that you're doing, strike the match of passion that is waiting to burst forth. Be the spark !!