As much as we'd like our lives to play out in a straight line, they just don't. We'd love to live in such a manner that we have only positive experiences and little to no conflict. It sounds perfect, but we know this isn't the case. We can go through ups, downs and quick moves sideways within the same hour !!
Since this is our reality, we have a choice to try to maneuver through this erratic pattern alone or with others to come alongside us. Honestly, too many people are trying their best to just slog through whatever is facing them primarily on their own. I don't think they're trying to be defiant or elusive. I just think it's just the messaging we believe or hear from others. We don't want to put someone out because of what we're facing. We're sure we'd be a burden and it's not that big of a deal really.
I don't buy it. We weren't created to go through life alone. We're wired to be connected and available for those that pass through our lives. We all have intersections we go through over time. They may be life events like school graduations, marriages, getting a job or death. Those types of intersections get the most attention, but they are few and far between over the course of our lifetime. There are a multitude of other times when our paths cross with other people.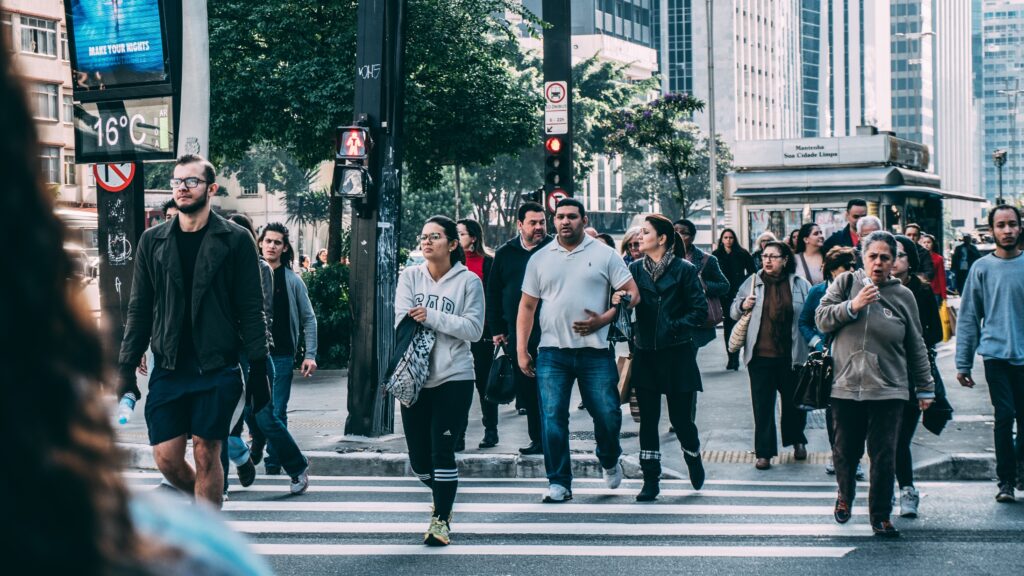 At the crack of dawn this past Friday, I was buying some donut holes at our local Meijer to take to my men's group when I encountered Jane at the self-checkout. I was the only patron in the store and her eyes lit up when I walked up to scan my items. She asked if I was ready for the Spring snowstorm which was predicted for Saturday morning. I said I was, and then she told me it would be "nothing" compared to what she was used to.
One thing to note – Jane is most likely in her mid to late 70's. She is a treat and she seems to be working at Meijer 24/7. Back to the story . . .
She went on to tell me about growing up on a 500-acre farm that had livestock and crops. She shared details about monumental snowfall, endless chores, hard work, and how she loved every moment. I also learned about the family restaurant her parents started after her father sold the farm so her mother could continue to work. She was tickled that it was one of the few restaurants on the way from Cleveland to Pittsburgh so everyone who passed by would inevitably stop in to try her mom's famous cooking.
I was just checking out to buy some donut holes.
However, Jane wanted to connect and talk. She felt the need to share her life and be a welcoming start to my day. I had a feeling that she'd have these impromptu conversations with anyone who was willing to stop and give her a few minutes. I met her at an intersection. Those few minutes were rich, meaningful and worthwhile. It was a great way to start the day !!
Yesterday, as I was reading through Twitter, I saw a tweet from an HR peer who shared about his current job search. He was being vulnerable and shared his frustration. He was questioning whether he should stay in HR or not. This caught my attention because someone tagged me and a handful of other practitioners as examples of people who believe in HR. They noted that we do our best to encourage, elevate and move the field forward.
I didn't take this as a pat on the back. I saw it as another intersection. I sent a direct message to the young man working to land his next great HR role and offered to help him in any way I can. We don't live in the same city and I don't yet know what he is/isn't looking for or what his journey has been. However, I know that I can do something with my network to try and open a door for him. We're talking on Tuesday and I can't wait to get to know him more and see where it leads.
I don't believe these encounters are random or coincidental. I look for people intentionally all the time. I make myself available in the event an intersection presents itself. Also, I'm open and looking for others when I'm crossing intersections in my life. I welcome those who take the time to stop and listen.
This week make sure you're looking for intersections with those who cross your path. Or, if you need someone to meet you at your intersection, be open to whoever shows up. The key to either way is to not just walk past. Stop and see what happens !!