When my wife and I went to England recently, it seemed like everything was an adventure !! Some of that was because each experience was new. You couldn't help but be awestruck by the deep, rich history that surrounded you at every turn. Before we went on the trip, we made a list of possible places to visit. I then reached out to friends via social media and asked their opinion. This was so helpful because we were able to hear from people who had experienced the various places we wanted to try and visit.
One of the recommendations was the city of York. We checked it out and decided we would be sure to visit there. It was hard to believe that our experience would be affected starting at the train station, but it absolutely was !! We took the tube to King's Cross Station. For those of you who are Harry Potter fans, this is awesome because I got to see Platform 9 3/4 where the Hogwart's students would go through a pillar to catch their train. I'm a big kid stuck in an adult's body. Seeing the platform only set the stage for what was to come.
Our trip went quickly and we took a short walk to our beautiful hotel The Principal York. We settled in and then walked to a site that dominates the city and its skyline – The York Minster. The Minster is a church and you're probably more familiar with Westminster Abbey in downtown London. It's hard to describe how massive the York Minster is. When you walk up to its doors, you are dwarfed by the size. It truly envelops you. We had a feeling that it would take several hours to take it all in.
When you get your ticket to go through the beautiful church, you have the option to buy an additional ticket to climb the steps of the Central Tower. Before the clerk allows you to buy a ticket for this extra experience, they point to a disclaimer. The one page sheet is full of warnings telling you that you need to be fit, have no breathing or heart issues, and are good with very tight confined space. I said that I'd be fine because I was eager to try this. I paid the extra five pounds and had a ticket to climb.
Debbie and I went through some of the Minster before I got in a queue to scale the steps of the tower. There was quite a buzz from the 30 or so folks waiting to climb. One of the staff came out to give one more word of caution before she opened the door. Everyone nodded their willingness to go, and then we entered the tower. What you saw were narrow stone steps going up in a very tight spiral. The first few minutes of the climb were easy and then my breathing became very labored as well as everyone else on this trek. We climbed for a good ten minutes and saw some daylight streaming into the staircase. You could hear sighs of relief and some joy as we exited a door and came out on the edge of one of the roofs of the church. Everyone pulled out their phones to snap pictures when someone noticed that this was only the first half of the ascent.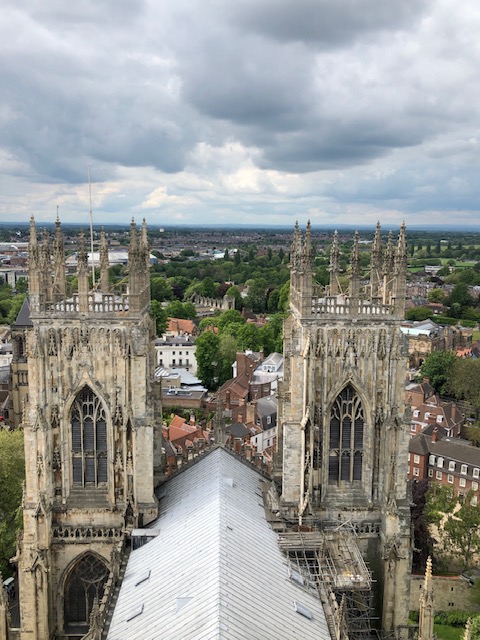 You crossed the roof line and entered another door with another spiral staircase that was even more narrow and confined. Now people started to shake and heave with every step as we continued to do our best to keep moving upward. Another ten or fifteen minutes and we got to the top. The view was amazing and breathtaking. We had climbed 275 steps to a height of 235 feet. To give perspective, the Central Tower is above the two prominent spires at the front of the Minster. Everyone was smiling between trying to catch our breath. You could walk around the entire perimeter of the tower and take pictures.
After some time, you realized that you had to go back down, and there was only one way to do that. So, you took a deep breath and started to wind back down the steps you just struggled to climb. It didn't take as long to get back to the floor of the Minster, but the constant turning made you very dizzy. When I came out of the stairwell, I was exhausted and went to sit on a chair to collect myself. My wife came and checked on me and I told her all about the trip. We spent several more hours in the church to make sure we saw everything. It was wonderful, but I was still spent several hours later.
Making the climb was worth it and reflecting back on it made me think of HR and work. How many times do we have the opportunity to pull ourselves out of our surroundings and ascend to a new place? Why do get stuck when we see/hear the warnings about potential serious outcomes? How often do we stay right where we always are wondering what making the climb would mean?
We hear that the view is amazing and needs to be experienced personally, but the power of breaking our inertia paralyzes us. Isn't it time you paid the small price and take the first step up? Yes, it could be daunting and physically/mentally difficult. But, the effort and work is worth it. The view is captivating !!
This week look around and see where you could move forward and/or up. Get in line regardless of the potential risks or obstacles. Feel the excitement and anticipation. Then, make the climb !!