Have you ever made a mistake at work? Have you ever talked poorly about someone else you work with, or that you know, without that person knowing about it? Have you ever disappointed someone else because you didn't follow through on what you said you'd do? Have you ever said something that you thought was harmless, but it hurt someone deeply?
The answer for me is a resounding "Yes" to all of the questions listed above. I'm not proud of that, but it's a reality. I'm human. I'm sure to fall and fail others. Hopefully that's not intentional, but it could be. I could have filled this entire post with more questions which feature how people fall short of positive and/or ideal behavior.
The challenge in today's workplace, and in society overall, is that when we fail each other that there is no room for grace. We demand an instant response along with a staunch stance to be taken that has little room for a right/wrong position. We usually want others to hear our opinion and then we make arguments for others to come to our side. In the midst of this type of reaction, we completely run over our humanity.
Now, please understand that I'm talking about when someone makes a mistake and is insensitive or thoughtless about others and their feelings and/or diverse viewpoint. I'm not talking about overt actions and/or poor behavior. That is at a much deeper, and more concerning, level. Poor behavior should always be addressed. Even then though, I would offer that you can allow grace when entering into these difficult situations.
As HR professionals, we are daily in the midst of people. (At least I hope you are !!) People are messy and will fail each other. It's unavoidable. When it occurs we have a choice. We can either rely on a system of unrealistic policies and procedures as a list of do's/don'ts as our response, or we can be humans ourselves.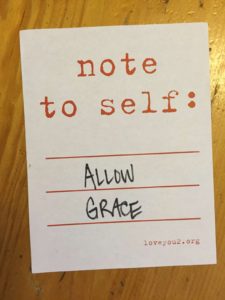 I would recommend that you try a new approach and allow grace to occur.
This may be foreign to you, and I can almost guarantee that it's foreign to how employees have been approached in the past. We don't feel that we have the latitude in our roles to show grace to others when they mess up. I just don't think it's true. We have more latitude and ownership in how we approach others because it's our own personal style.
I know that when others have shown me grace when I've stumbled, I've been thankful. It allowed both of us to breathe, calm down and look at the situation in a fresh and open way. More often than not, it led to a productive outcome and a stronger relationship. Trust me when I say that allowing grace in our interactions with others will be positive most of the time.
This week buck the trend of others who tend to be reactive and destructive when people fail them. Instead of talking ABOUT others, talk TO them with an attitude of grace first so that you seek to understand them, the situation they're facing and how to potentially move forward. If you try this, I think you'll see the people aren't as bad as you think. Also, it will make HR, and your life, more balanced and fulfilled. It works.