I am fortunate to travel to HR events all over the place. When I do that, I also get to do my favorite thing – meet people !! Meeting people has always come naturally to me. I feel comfortable meeting anyone at any time in any place. I know this is rare and I don't expect others to be nearly as comfortable with this as I am.
When I meet someone though, I try a different approach than most. The first thing I make sure to do, every time, is to slow people down from the inevitable traditional greeting launch. I pause and ask their name – even though they're most likely wearing a name tag. Then, I make sure to share my name again to keep a steady pace.
Here's where things veer in a different direction . . .
Most people then open a conversation with, "So, tell me what you do." or "So, where do you work? I never do this even if the other person I'm meeting starts this way. Now, this took an incredible amount of discipline to break the habit because I have been using this opening barrage just like everyone else.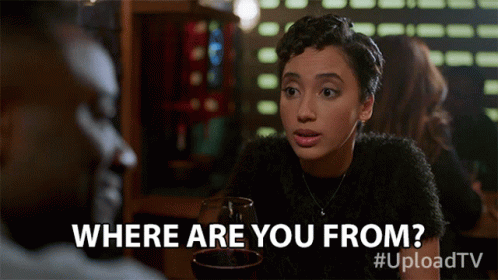 I do this instead, "Hi, Mary, where are you from?"
People freeze. They weren't expecting a question that fell outside the normal pattern of human interaction. Once they get their bearings, you see something amazing happen. Their shoulders drop and a smile starts spreading across their face. "Oh, I'm from . . ." and then they warmly share this tidbit about themselves.
The entire tone and tenor of this interaction becomes welcoming, warm, and genuine. People don't posture or try to justify their role in their organization or the brand they work for. It puts people at ease.
Recently, when I was speaking at the Oklahoma SHRM State Conference, I tried my elusive tactic on people and many replied, "I'm from the City." Not being from Oklahoma I had no idea where that was. I'd kid, "Well, I'm from a city too." Then they'd blush and stammer to say, "The City is what we call Oklahoma City." I learned something new and it was fun to do so.
You see, when we ask people to recite their occupation and company, we truly don't care. We won't remember it and it's a clumsy way to get to know someone. When people talk about where they live, they're open to sharing so much more about themselves willingly.
One caution in the "where are you from" approach. Don't downplay your location. If you're from a smaller town or village, share the name of it and where it is proudly. You may need to explain it's located near a larger, or more well-known city, but that's okay. When you say, "Oh, you don't know where this is . . . , " – you diminish yourself and the conversation.
I was just in a conversation where a friend said, "Yeah, I get to serve in churches in Jumbo and Roundhead." I knew exactly where these minuscule burgs were in Ohio. He didn't have to explain or give me more details. I already had the picture that these were small towns and I loved that he was willing to meet people where they lived.
Next week the SHRM Annual Conference is going to happen in Las Vegas, Nevada. The convention center will be teeming with literally thousands of people and it can quickly become overwhelming. I recommend you relax and use this new tool in your "get to meet you" quiver. Trust me, you'll start enjoying networking far more than you have in the past.
So, when our paths cross, and they will, ask me where I'm from and I'll do the same !!