We're all building up to the Christmas and Holiday season this time of year. There seems to be an even greater emphasis on the need for generosity after all that has occurred during 2020. I think that is great and have those same feelings to reach out to lift others up. Yes, the holidays will look different this year than they have in the past. That seems to be the overall theme for the entire year. The world has changed. I don't think it's a matter of yearning for a rebound or a return to life as we knew it either.
We all have a choice as we enter a new year. We can move forward or remain stagnant. I choose to move forward. I'm not sure what lies ahead and I'm not a person who makes resolutions. I am not naive either. Challenges are sure to continue to occur in 2021 personally, professionally and as a society. I hope you don't get discouraged, and I have a suggestion that just might work.
Find your inner llama !!
You may wonder what that means. Let me explain. Several years ago a dear friend of mine, Trish McFarlane, and I were catching up on a phone call and we started making up stories about HR and llamas. There was no rhyme or reason for it, but we laughed every time we mentioned them. It stuck with me and I've been a proponent of HR Llamas ever since.
The main reminder of the llamas for me is that they bring a smile to my face and overall joy !! In fact, others have embraced this symbol and have sent me llamas to add to my collection. They share that they appreciate me giving them something to rally around. I've received several of them as gifts over the years with incredibly touching stories from people. My wife and I were out at Lowe's recently and walking through the Christmas decorations section when she saw this massive inflatable llama. She quipped, "I suppose we're going to get that for our yard." I was stunned, and then it was purchased !!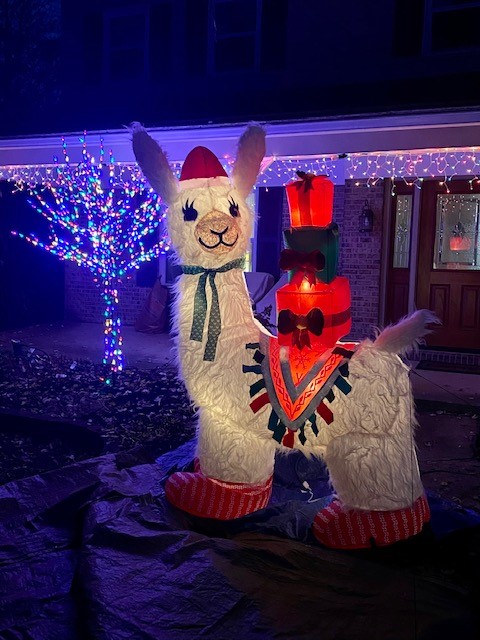 Every night as dusk arrives, you can hear the soft whirr of a motor as our new llama majestically fills with air and rises from the ground. A light comes on to shine out and break away the darkness. Our neighbors have already stopped by to say how they love the new addition to our decorations. They say it makes them smile every night !!
It's easier to show grace, generosity, and joy during the holidays. It seems like our hearts soften for about thirty days. Then, we slip back into a pattern that is not so joyful. People all around us are yearning for ways for everyday life to be positive. We should do all we can to not regress. That is why I want you to find your inner llama – whatever that is. It doesn't have to be a llama. Find what works for you and reminds you to share encouragement, laughter, and joy year-round !! It works. It's needed. It's time.