As you read this, you are facing another workweek. What's your attitude going in?  Is it positive, negative, anxious?  It's interesting that we're always concerned with how we face the workweek, but what about all of the other employees?  They also have the same opportunity to decide how their workweek starts.
We've become numb when it comes to the workplace.  We go through the same patterns and motions as we enter each day.  There is truly very little variety.  When there is any significant change, we are really thrown off.  We want stability and things to be predictable.
But, have you asked yourself if your predictable pattern is healthy or not?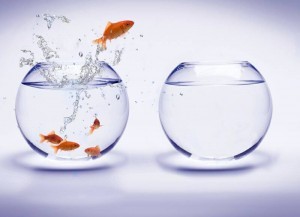 I'll be honest, I take my amazing work environment for granted too often.  I was reminded of this when a dear friend of mine, Brian Griffin, and I crossed paths at a favorite coffee haunt one day before work.  As we headed to our cars, he said, "Have a great day !! Remember, you become like the tank in which you swim."
I couldn't get this thought out of my head. The workplace is the tank that we jump into everyday and the people we work with are swimming right along side us.  If I asked the others around me, what would they say about our "tank" ??
The work environment is a key indicator of your company's culture.  We spend an incredible amount of time in our lives at work so it shouldn't be something that is just taken for granted.  HR has the prime opportunity to work on the fish tank and make sure that it's healthy, inviting and fun !!  Did you recognize that last word . . . "fun" ??  It's something that can happen.
People want to enjoy their workplace. They may still come to work if they don't, but that doesn't excuse HR from trying to change that.  So, what things could you address that keep people from enjoying their work?  What are things that are within your reach that could be changed with a simple move?
The challenge in making this come to life is that everyone's workplace is unique.  There is no one size fits all formula to make this work.  That allows you to be creative.  How exciting is that?
This week step back and take a look at your workplace.  Evaluate if it is a place where people enjoy themselves and look forward to coming in.  If it needs some cleaning, then do that as well.  HR should own this.
From now on, before you go into work, ask yourself – "How's my tank ??"