Recently, my family and I had a gigantic garage sale !!  Seriously, my entire garage, family room and front porch were filled.  We had all of the possessions of my mother-in-law who recently passed.  There were tons of memories as we sorted everything, and it took over a week just to sort all of the "treasures."
We prepped, priced and positioned everything so it had the best chance to be sold.  Our goal was to sell it all with the proceeds going toward my son's Eagle Scout project.  It always amazes me that when you have one of these sales your street is lined with people who just can't wait to see what you're offering.  We were scheduled to open at 9:00am and the first folks started showing up at 7:45am !!   No one was turned away and the sales started building.
People came looking for certain items and knew exactly what they wanted.  We were fascinated by people and their choices. We even came across some people who were "resellers."  These folks were professionals.  They pulled item after item because they were going to take them and repurpose them into something "new."  They were great negotiators and rarely wanted to pay full price.  I thought they were really fun and saw items that people may consider as junk as something that had potential.
There were a few items that we hoped wouldn't sell because deep down we wanted to keep them.  We ended up with a set of antique 1/2 gallon milk bottles with a carrier that used to bring milk to people's homes and a set of steel chairs from a patio set.  We took the chairs and went to work on them by scraping loose paint, washing them down and giving them a new color so that they each had a new look !!  We knew that these would be a unique addition to my daughter's 1st college apartment.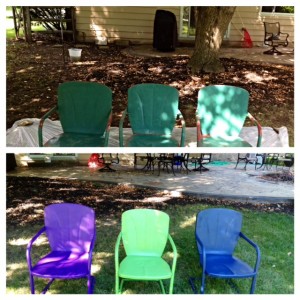 They turned out great !!  It only took an hour and a few dollars to breathe life into something that had been buried in a garage gathering rust and dust.  It was also very fulfilling to know that this simple investment of time and work would help out someone else who could use them for years to come.
While I was giving the chairs a facelift, I thought of HR.  I know that may seem like a stretch, but hear me out.
How many things are there that we do that sit and gather dust after we create them?  We're so excited when they were introduced, but we missed it when they were no longer relevant.  The difference is that if we had a sale of old HR stuff, people wouldn't be lined up to check it out.
What do you have that needs to be cleaned and given a new coat of paint?  What do you have that needs to be put out for the sale just to flat get rid of it?
This week do some cleaning.  Don't settle for how you've been doing HR.  Dig deep and take the items that need new life and give it them.  At the same time, take the systems, policies and procedures that have no purpose anymore and get rid of them.  Have the HR garage sale that you've needed to have !!  You'll be glad you did !!