It's Valentine's Day and I'm exhausted. It's not physical exhaustion. It's that I'm emotionally and mentally drained. I don't know about you, but I don't feel that I'm alone in feeling this.
I know there are a multitude of factors that play into this, but the main one is the constant message bombardment of fear, negativity, and inflammatory stories I see from the "news" regardless of the outlet. It seems that we continue to put out information that is meant to put us on edge and evoke some overly charged response of disdain or disbelief. Add on top of this that once something is posted, shared or released, then the wave of comments starts hitting the shore. People reply in snippets of raw emotion and rarely seek, or ask for, context. It is far easier to launch a volley. And, I think people long for a returned volley so the comments can spiral into a deeper and deeper hole of disparagement.
Ironically, it's come to the point that when people choose to post something positive, people launch on that as well. They claim that people are faking their lives and only showing good things. Pause. Reread that sentence. We're pissed that someone has something positive to share.
I understand that the world is filled with horrific things. I'm not naive to think that these things can't be shared or unearthed. When things get overlooked or buried, the terrible actions and/or behaviors continue. I just think that we can change the approach and method of how we communicate with each other – including the tough things.
(Random side thought – My head is already wondering if people are just sitting there waiting to counter each word of this post. That saddens me to even have that thought. Back to the post . . .)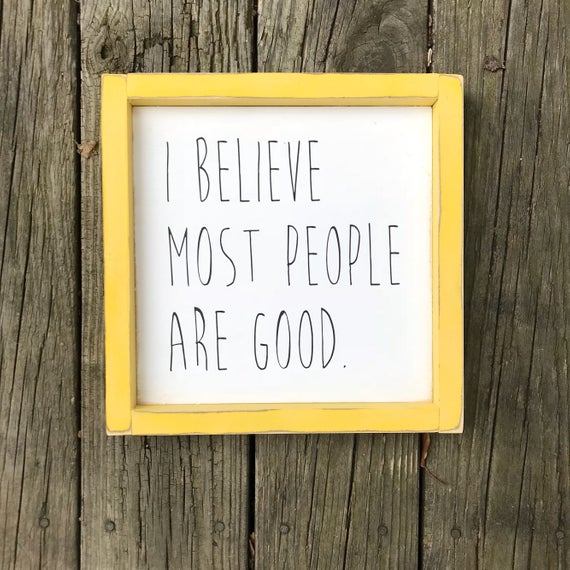 I believe in people. I believe in those who share my views, likes and opinions just as I do with those who don't share them. Do I struggle with people? Yes. Just as sure as I think others struggle with me. We're human and we live in a broken world. Even in the midst of that, I believe most people are good. I really do.
Just having that posture makes people scoff and throw up skepticism. We share experiences of how someone hurt another person. I'm sure each of those experiences are valid and personal. I've been hurt. I've had people hurt others in my immediate family. I've experienced loss of family and dear friends throughout my lifetime.
I don't view life as a mass of either/or situations where I'm forced to land on one side or another. I'm an if/then person and in every circumstance in my life I choose to say that "if" such and such happens, "then" I choose to respond as positively as possible – even in the most difficult of incidents. You may think that's unrealistic, but it's something I hold on to.
We live in a time when people don't feel they have anyone who believes in them. It fills conversations at work, on social media platforms and in public forums. I understand that it's not feasible to reach everyone and close this gap. However, for those I'm fortunate enough to have in my life, I can act and lift them up.
I have faith that this small action will make a difference – even for a moment. I want to see the tone of conversations change to become a rich dialogue where people are heard and valued regardless of their perspective. If they are struggling with an issue in life or society, they know they have someone who is there for them to listen – not to solve or jump to conclusions. I don't want them to feel invisible, unheard or ignored. I want to be someone at work, in HR, online, and in-person who is willing to challenge the norm and change the narrative. I want to show that there are amazing, positive and uplifting things happening all the time around us. It's not all awful. In fact, it's far from it.
It's ironic to me that we set one day aside each calendar year to "celebrate" love on Valentine's Day. I would rather suggest that love become our norm every day. I know it's easy to think it can't be this simple, but you need to start somewhere. For you see, all you need is . . .