I am a self-avowed Pink Floyd fan. Seriously. I have everything they've ever done on vinyl and CD's. Yes, I know streaming exists, but that's for another post . . .
As I was driving this weekend, I was taking in The Dark Side of the Moon which is just an epic set and I heard the track – Us and Them. Note the words of the title. It's "and" not "vs."
Lately, I have been struggling with everyone demanding that people take a side on issues that may, or may not, be important. I think people use a filter that if it's important to them personally, then they expect everyone else to have that same level of interest. That's not reasonable or feasible. I think there are issues that have larger social implications than others. I do feel that you need to have a position on those as you see fit. The difficulty is that people are now expecting that almost all of their life circumstances demand that people take a side. It's exhausting !!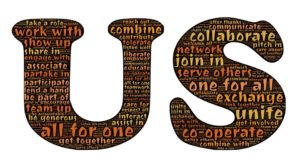 Our model in HR, and work in general, follows the "versus" side of the us and them dilemma. We tend to feel that we are expected to be on the side of the company or management by the nature of our role. Unfortunately, many folks who practice HR believe this wholeheartedly. I think this is essential, but it's only one side of the equation. I'd like to propose a new approach. Don't have an "us" or "them." Only have an "us."
This has to happen in organizations because if it doesn't we can't truly be diverse. The more factions we establish, or allow, the more dysfunctional we are. I understand that the unique nature of each person can lead to friction or divisiveness, but I think that only happens WHEN we take sides. HR has an opportunity unlike any other role within an organization because we can move and float from the most senior leaders to the front lines. We can work with every department and get to know the employees for who they are and in what they believe.
Great HR weaves people together instead of allowing people to pull themselves apart.
A key to making a culture of "us" is to make sure that all employees are heard, accounted for and not left behind. It's hard to do this because of the nature of our roles as well as our disposition. I wish HR people would be more honest and admit that we spend more time with folks we like than will all employees. It's natural because that's what all humans do. Therefore, it takes more focus and discipline to ensure that employees are included. Remember, inclusion is not a program, it's an action.
This next week, start seeing where the us and them camps exist. Evaluate them and see how you can bring people together and still allow them to be the fabulous, unique and diverse people they are. It's worth it !!
To get you in the mood, I leave you with some inspiration . . .