My wife and I had a significant event happen this past week. We emerged from our basement after four months !! This wasn't due to the never-ending pandemic. The renovation of our home's first floor was completed. Now, please understand that we had this transformation planned before the world changed forever.
We have been very fortunate to have lived in the same house for 29 years. When we had been married for two years, we purchased our home which was originally built in 1977 and we moved into it in 1991. Over the nearly three decades, we've changed paint, carpet, decor, roofs, appliances, etc. However, the basic look of our family room and kitchen still had that late 70's vibe. We had a discussion at the end of 2019 when my wife said she wanted to remodel or move.
That's quite a decision !! Do you spend money to redo the house you've enjoyed for so many years and "update" it, or do you go through the adventure of finding a new home that brings its own level of stress? I'm fairly comfortable with change, but I hesitated when I was faced with these options. We raised our two kids in this house and have had many family gatherings, scout meetings, dinners with friends, and more. I know we could do that in a new house, but I wanted to stay. That decision meant that we would go through a patience exercise that you've never planned for. We got everything designed and once the project began, we went down the stairs to our new living quarters . . . for four months.
We completely altered how we normally live, and then the pandemic hit. Honestly, we got through life together in a much smaller space with very little conflict. As we came back up to the first floor, it felt like we were emerging from a bunker. The work of replenishing, reorganizing, and getting rid of things we didn't need was at hand. This too went very smoothly and ended up taking multiple trips of donations to Goodwill and finding new homes for our old furniture and appliances. Everything went well . . . until the shelves.
On the "end" wall of our family room, we had two built-in bookshelves added to frame a fireplace. One bookshelf came with five shelves and the other with four. That was the first discrepancy. The next one was the placement of the shelves. My wife and I are very different which is what makes us a great couple. She balances me in so many ways. One area where we differ though is she likes order and I like variety. The shelves we added have clips on each side and it takes considerable effort to unsnap them before they can be moved.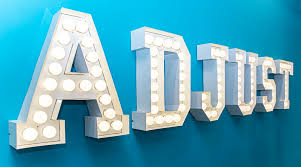 Debbie wanted everything to match so when you faced the built-ins they would have symmetry. We hadn't added anything to adorn the shelves yet, so we didn't account for different sizes of items. I didn't care. There didn't need to be symmetry for me. As I was trying to get the levels right and have things match, I started to lose patience. I just wanted things to be completed, and my wife wanted things done correctly. You'd think that something so "easy" would not have added so much consternation. Sound familiar ??
This simple act of adjusting shelves reflects what we face at work every day. You have at least two parties working on the same task. I guarantee that many sides will be taken because no one approaches work the same way. We claim to be so good with change and being adaptable, and that just isn't true because we overlook one simple fact. We're "good" with adjustments if they match how WE want the outcome to be. People want to get their own way. I feel it is the underlying obstacle we hit whenever two or more people interact – which is the majority of every. day.
The shelves were adjusted. They're symmetrical and they look wonderful !! The other part of adjustments to be successful is compromise. There is value in evaluating other people's perspectives because we should learn from each other and stop knocking heads with each other. The goal is to move forward, not just be right and get your way.
Our house will keep coming together, and I'm sure that more adjustments will face us along the way. This week take a look had how good you are/aren't with adjusting, and be honest with yourself. Once you assess this, then start applying new methods to move forward and truly get comfortable with adjustments.
Now to the kitchen cabinets . . .