This past weekend I experienced one of those milestone moments in life. My father passed away in October of 2020, but we didn't have the opportunity to bury him at that time. That was because both of my parents decided years ago to donate their bodies to science. So, my dad first went to Wright State University then he was cremated. The pandemic then threw the proverbial wrench into this situation just as it has everything else. His headstone was delayed and we weren't sure when we'd have the chance to celebrate him one more time.
We were fortunate to have spectacular weather and my family was all able to come home to be with my mom to support her. We traveled a mile outside of town and all gathered around his final resting place. The blue skies, billowy white clouds, and bright sun added to the peaceful breeze and covering shade under a mighty oak combined for the perfect setting for our graveside ceremony.
I was grateful to be able to be in this "final" goodbye. My dad was incredible and lived a full life. I miss him but have been at peace since 2020 with his passing. That was because he lived his legacy far more than "leaving" one.
He taught me the power of honesty, integrity and being intentional with everyone you meet and in all you do. He lived his faith publically and showered love on my mom every moment of every day. He filled our lives with humor, folksy sayings, and steadfastness you could always rely on. He was always in my corner and a ready sage to give advice, direction and encouragement.
All of these attributes have been woven into how I approach life now. Every interaction we had was a chance to teach, impact and shape me. He modeled life in how he'd like to see it in others. He never lectured, he showed. His approach was to work alongside you. Sure, we tussled, disagreed and even argued over things. It never got in the way of our relationship. It enhanced it because I always knew he loved me no matter how heated moments got.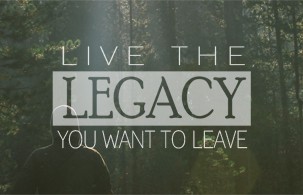 You see, over the history of humankind a minuscule percentage of people made such a historical impact as to have had a visible and lasting "legacy." We know their names and their contributions whether they were positive or negative. They may have attained some level of notoriety or celebrity, or their contributions affected large sections of society.
I'm not saying that you could be one of those people, but most likely you will not be. That shouldn't inhibit you from being like my dad. You can live your legacy every day. We need to realize that we encounter people for a short period of time when we consider the times we truly cross paths. Since that is our reality, why not leave a positive mark when you meet?
If we're honest with each other, it only takes a small situation for us to become frustrated and say things that are harmful or destructive. Someone could cut you off in traffic or not move fast enough in line. They could let you down with what they'd say they'd do or their approach is just different than you when you work together. Those negative emotions just come out and when we react, we say things we didn't need to. It's hard to fight back and not fall into this trap.
We have the opportunity to be more mindful. Knowing that each interaction leaves an impression may influence us to react differently. I want to be someone who lives in a manner that is intentional, positive and encouraging. When I fail others, and I will, I want to show grace and ask people to forgive me when I get frustrated or disappoint them.
I want to be someone who lives the legacy I want to leave. I won't get to see or know if I'm "remembered", but I have the opportunity to live in a way now that can make a difference in the lives of all I encounter. You can do this as well. I encourage you this week to join me as someone living their legacy daily.