Six years ago I had a blog post with this same title because I was sharing the news that I had written a book about HR called HR on Purpose !! I was not sure what would happen by taking the time to put down my thoughts about the profession I love. The goal back then was to put something out in the industry that ran against the grain of what had been the tenor of people trying to tear down HR. It has been very successful and I've heard from people all over the globe who've read it. It was humbling, to say the least.
I was glad to see that a message of positivity and encouragement had made its way out to try to stem the negativity that seemed so prevalent. I felt I had accomplished what I had intended and I'd be done with the book business. Three years passed by and my publisher dropped me an email and asked – "Do you think you have another book in you?" I hadn't given it much thought, but I was wondering if I could do it again. In the first book, I wanted to rally my peers to own who we are and what we do. Be proud of being an HR practitioner. I felt led to lay out an approach to show how HR people can be leaders in what we do. I pulled out my laptop and started writing to see what would happen. A month and a half later, I had put together book number two – HR Rising !! It felt good to keep writing.
When my second book was to be published, the world shut down. We all had far more important things to focus on. I was pleased to see how the world pulled together for a time in order to survive. I also loved how organizations finally woke up to the reality that people are essential. It's a shame we needed a global crisis for this to be known. HR professionals were asked to step up and lead . . . and they did. HR showed it should be put into a leadership role.
As we continued to try to navigate our way through the pandemic, more and more uncertainty hit everyone like never-ending waves constantly crashing against a beach. I was touched by the wonderful folks I work with who made a giant poster of my second book and they all signed it. To be acknowledged and recognized in this way was so touching. It hangs in my office to this day. Two books. I was good with this.
We had a major leadership shift change at work occur at the end of 2020 which was completely unexpected. My boss, our COO, passed away from a heart attack. He had been with the company for only 47 years. We went through a full reset and my role changed considerably. As we worked our way through new methods and approaches, I was in several meetings where I shared many of the people-centric ideas I had written about more openly. I also threw out new ideas because they seemed to fit.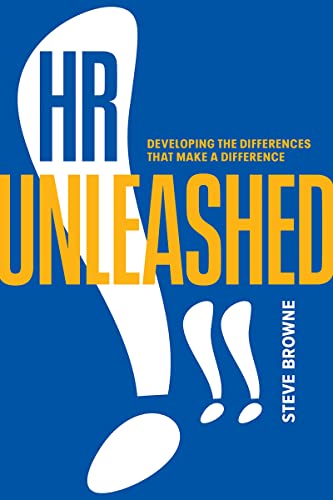 During one of these meetings, Michael, our CEO, quipped, "Is this going to be in your next book?" I was stunned. He was serious. I asked just to double-check and he really wanted me to do it.
So, six years after attempting to capture my thoughts about HR, I have written book number three – HR Unleashed !! The thought behind this book is to encourage HR not to retreat to the practices of how we had been doing HR before the pandemic. We need to move forward and drive organizations to be intentionally people first. The book is filled with stories and examples of how you can make this happen. I believe companies that make this come to life will remain relevant. It's the key for HR to stay ahead of the future.
This book was published at the SHRM Annual Conference just as my prior two books were. I'm floored by the response so far and grateful for the opportunity to get another dose of positivity to elevate HR out into the world. I've enjoyed being a paperback writer. We'll see where things go from here . . .