I grew up in Ada, Ohio which is literally one square mile in diameter. It was magnificent and I had no idea of what the world looked like outside its perimeter. You see, I grew up in the pre-internet days and we thought traveling to Lima, Ohio to see a movie was a true expedition !! It took us 15 minutes to make that trek, but we couldn't believe we had such freedom. I have to say that I enjoyed being blissfully unaware of the world outside my little village. That was over 30 years ago . . .
Ironically, the world has changed little for most of my peers in HR. We continue to live in a microcosm of the global reality we live in. There are many folks today (around the globe) who limit themselves to the city/town/village they live in as their lens for looking at what they do. It may even be more constricted in that some HR professionals only perspective is within their own organization.
We live in a global community whether we recognize it or not. We can't keep existing in a flat world model. There don't have to be any horizons on HR and how we're connected. I don't think I'm the only one thinking this. I continue to find and connect with great folks from every continent. The more folks I find, the more I get geeked to make these new discoveries.
In a day and age where countries are calling for more segregation and isolationism, I think it's up to HR to span those boundaries and blur them more and more. I understand that we each have unique practices, laws and regulations, but we have one thing in common . . . humans.
There's no logical reason for us to stay confined within our own geography. With technology and social media all around us, all we need to do is click a button to Follow, Link In or Friend each other. We can talk via Skype or video conferencing regardless of distance or time zone. It only takes someone willing to step forward.
I remember a few years ago when I went to my first SHRM National conference and we were AMAZED that there were people who practiced HR in areas of the world other than us. I'm not exaggerating. It's as if we discovered an entirely new land. It happened again when I attended my first HRevolution event and we were astonished that others who were active in Social Media in HR actually existed and that we were real people and not just avatars on a screen.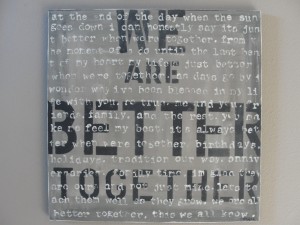 It's time for the HR community to be global. I don't mean global from a U.S. perspective. I mean global from an industry perspective. This goes beyond the great professional societies that I encourage you to belong to because they are wonderful forums. This is a call for individuals to make a grass roots effort to connect, communicate and collaborate.
I look forward to the day when I'll get to travel to the UK, India, Africa, Australia, Japan, Canada, etc. and meet peers who get to work with humans. It will be fantastic to get to know them personally and see what great things they are doing in the field and inside their companies.
I want you to not only thrive in your village, but in your profession. Join me and see how we can be better together globally !!