The year was 1980 and I was a junior in high school. I was geeked to jump into more college prep courses and one of those was Chemistry. This class was only open to juniors and seniors. Many of my friends signed up as well, but we weren't really sure how it was going to go. We heard that a new teacher was going to teach Chem and that brought about an air of uncertainty.
We didn't handle "new" well. I joined the Ada school system in 7th grade and it took me almost an entire year to break in to find my way and make friends. That's because the vast majority of my classmates had been together since Kindergarten. Now that I'd been accepted into the mix and going to my fifth year with this cohort of peers, I was as skeptical as they were about any new teacher.
As we took our seats, this slender man with large glasses entered the room and turned to the blackboard. With a piece of chalk, he printed his name . . . Mr. Lusk.
It didn't seem to fit. He was VERY young compared to the much older teachers in our high school. He had a mild demeanor and softly introduced himself.
"Hi there. My name is David Lusk and I'm your new Chemistry teacher. I recently graduated from Ohio Northern University and this is my first class and first day teaching full-time."
Our jaws hit the floor. He was brand new !! I'm sure he had some student teaching experience, but nothing like taking on a group of juniors and seniors who were extremely close and familiar with each other. We were sure that this was going to go south. Being immature, even though we had all of life already figured out, we made up our minds we were going to give him a shot, but we were going to stretch the boundaries as much as possible too.
The first few weeks were pretty tame. We jumped into learning the Periodic Table and started with the very basic building blocks of Chemistry. He seemed to be chill enough and the classes were interesting. He gave us a schedule of labs we'd be doing and our interest peaked. I hung out with three of my close friends and we maneuvered our desks to be like a little pod in between the two large, long lab stations. We didn't ask. We just shuffled together and watched to see how Mr. Lusk would respond. He didn't mind and we didn't pay attention to the seniors or the other juniors in the room. The seniors were marking time and had little interest in the subject or the new teacher. The girls who were in the class were crazy rule followers and they felt the four of us should get back in the rows of desks like all of the other kids. Upsetting them was icing on the cake.
After about a month, we had an unusually early snow. Our room was on the first floor in the "new" wing of our school. We had a large paned window with a small panel that would jut out just about ten inches. As class was going on, my buddy, Tom leaned over and said, "Watch this. It's time." He ducked out of his desk went back to the window and popped it out. Mr. Lusk was writing formulas on the blackboard and people were frantically taking notes.
Tom popped back into his desk with a giant, fresh snowball. "What are you going to do with that?" I asked. "You'll see." He stood up and threw the snowball to the front of the room easily and it smashed into the blackboard !! We sat there in awe and anticipation to see how the new teacher would react. Tom was ready to get busted and go to the Principal's office. It was an epic act of anarchy and we were sure he was going down.
What happened next set our opinion of Mr. Lusk going forward. He reached up calmly, wiped off the wet streaks of snow and kept writing the formulas. Not a word. He didn't turn around. No reaction at all. As we received evil glares from the rule girls about what dorks we were, we sat there in pure admiration. Class ended about thirty minutes later and Mr. Lusk still didn't bite on our attempt to rattle him.
The four of us formed a group called The Conclave (we were massive nerds in school) and we decided we'd be Mr. Lusk's champions and supporters from then on. It was the best decision Tom, Jamie, Greg and I ever made. We ended up learning lesson after lesson from Mr. Lusk. He even added Chem II and taught Physics our senior year. We were the first to sign up. Tom and I also scheduled it so that every, single study hall, we went to the Chem room to hang out with Dave.
After graduation, we still made sure to stay in touch with Mr. Lusk and drop in every so often to see how he was doing. Every time we did, he'd explain that we were his first class with pride. He continued to check in with us long after we completed college, got married, had kids, and stepped into our careers.
This weekend, I was able to go to his retirement party 43 years after he stepped into that Chemistry room with a bunch of goofy juniors. He has been honored year after year as the best teacher and most beloved teacher at the high school. He has taught well over 1,000 kids the joy, magic, and importance of Chemistry and Physics. He was active in tons of additional activities including running the school Quiz Teams, overseeing Student Government, and taking trips to Cedar Point to let kids enjoy the amusement park.
The receiving line for Mr. Lusk started at 2:00 pm and didn't wane until the reception was over at 5:0o pm. An endless group of people including community members, former teachers, members of his church, and alumni from the many years he taught came to tell him "Thank you" for all he had done.
Greg Lavan and I were the two members of his first class who came back. You need to remember when Dave was starting his teaching journey, he was 22 years old and we were . . . 17 !! We were basically peers. We're on the precipice of entering our 60s and he is just a bit ahead.
When I was able to have some time with him, we embraced with a deep fondness. I tried as best I could to express to him how he changed my life and I wouldn't be who I am without his investment. We both had tears welling up in our eyes as we shared our moment and I giggled as he stood in his Monty Pythonesque "I'm not dead yet . . ." t-shirt and jeans.
I spent hours with Greg and another classmate, Dave West, who was a year younger than us and we shared hours of stories, laughs and joy about Mr. Lusk and his impact on our lives and the lives of others.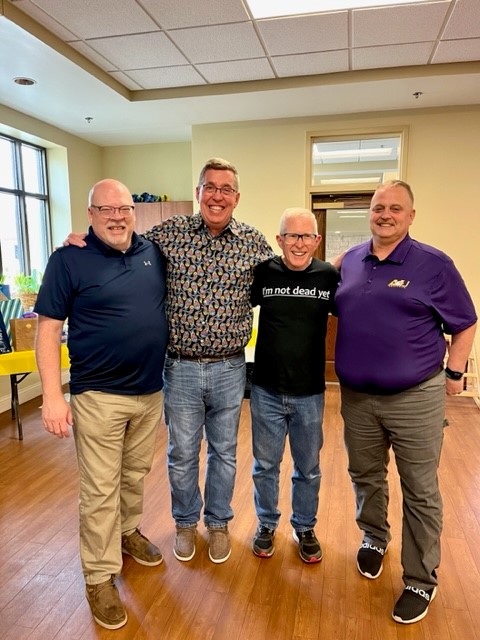 Left to right: Dave West, Steve Browne, Mr. Lusk and Greg Lavan
I spent five hours a week with Mr. Lusk for a year in class and then ten hours a week my senior year in class and infinite hours skipping study hall. He embraced The Conclave and every. single. student. who entered his classroom over his 43 years. He left a mark that set direction in my life and had as much of a meaningful, lasting impression as my parents. I love him and he knows it.
I share this story not only to honor him but to remind you dear reader that you leave a mark on people every time you encounter them. This is true whether you intend to or not. Don't overlook this. Choose to leave a positive, long-lasting impact and influence as Mr. Lusk did.
You never know what will come of this. Being intentional and cognizant of this reality will shape your attitude and approach toward others. I have taken the example Mr. Lusk exhibited to heart. I do my best to be mindful of leaving a positive impact on people every time I have a chance to be with others.
To thank Dave, I found a mint copy of Zenyatta Mondatta by The Police issued in 1980 the first year he taught. Greg and I signed it as two members of The Conclave. One last chance to leave a memento. So grateful that he swiped the snowball off the board and kept going. He has made an everlasting and eternal investment in the lives of many because he did.