This past week I was fortunate to be a part of the Illinois SHRM State Conference. I was scheduled to be a speaker and was geeked to have the opportunity !! As I was sitting in the terminal before my flight from Cincinnati to Chicago, I received an email from the conference organizer. She put a question to me that was completely out of the blue. She asked if I would be the conference emcee.
I'll be honest. I wasn't expecting to see this request because I knew who was going to be the emcee and was at first concerned. It turns out that a work issue came up that he had to address. When I knew he was okay, I enthusiastically said that I'd step in !!
Being the emcee allows you to set the tone for the event. I was fortunate because I personally knew each of the speakers that I introduced. I also had a relationship with the Illinois SHRM volunteer leaders, and that set the stage for something I've always wanted to experience at an HR conference.
You see, when I go to an HR conference, I want to meet every attendee. This isn't an exaggeration. I truly do. I know that this isn't normal and that's okay with me. It's always been hard to try and reach this goal because people tend to avoid contact – even HR people. Most people have so many things going on in their personal lives as well as situations at work that they are looking for an escape. Sure, they want to learn from sessions and they're also looking for credits towards their HR certification. But I find that few people want to genuinely meet others that they don't already know.
I understand that I'm off the chart on the extroversion scale, and I'm good with that. What I can't understand is why you'd pay to go to an event with peers who are potential resources and completely ignore them in order to grab a seat in a session or a plate of food in a buffet line.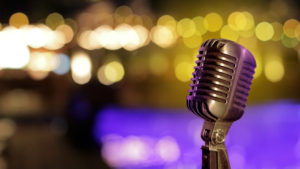 So, since I had the microphone, the tone I chose to set was one that expressed the value of having personalized connections. Not one speaker that I introduced had a bio read. Instead, I shared stories about them as people and how much I learned from them and their insights. I was also able to thank Dave Ryan, the ILSHRM State Director, for his service by writing him a note full of song titles from The Eagles (one of his favorite groups.)
Then, the goal I have yearned for at an HR conference happened. I dropped the mic and was able to meander throughout the entire venue to greet everyone. With every "Hello" came a smile and a "Thank you" for them choosing to attend. I didn't let one person get by me. Oddly enough, everyone returned both my greeting and my smile. Many also laughed and engaged with me.
You see people want to be acknowledged. People want to belong. This is especially true for those of us in HR. We spend so much time pouring into the lives of others that we often forget ourselves. I think this needs to change for ALL of HR and at EVERY HR conference.
A friend of mine on Twitter asked this week what would make HR conferences better – this is it.
From now on, take the time to look up and meet the others in your profession who came to learn just like you. Don't settle for just attending sessions. Meet the great people you're with as well. You'll be glad you did !!