This past Friday night I had the incredible honor of being the commencement speaker for a college graduation.  I was humbled to even have been asked, but not nearly as much as I was after I attended this amazing event !!  This was the Fall graduation ceremony for Brown Mackie College.
I don't know how much you know about Brown Mackie, but the majority of it's programs are either Associates Degrees or Certificates.  Most of the students are "non-traditional" and they are phenomenal !!  While others may take education for granted, these folks are usually well past high school, are working while going to college and may be raising a family at the same time.
As I entered the Lakeside Christian Church where the ceremony was to be held, I saw every seat filled as family, friends, and children were buzzing about their family member becoming a college graduate.  It was noisy and people came from all walks of life and many of the graduates may have been the first of their family to reach this level of education.  To say this was an "accomplishment" would be an understatement.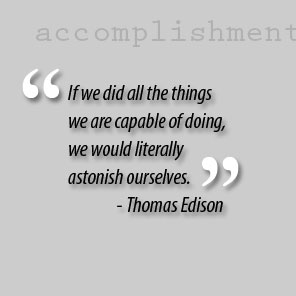 Too often, we as HR professionals, look for the big splash – the MAJOR accomplishments that people are supposed to achieve.  We base entire systems on the vast, life-changing initiative (even though most are short-lived), and we reward people for them.  I'm reminded often by my colleague Paul Hebert and his good work on his blog, that we have much to learn when it comes to doing recognition and incentives well. Also, we belittle accomplishments like the one I witnessed at this commencement.  We say it's "just" an Associates or a Certificate.  And, we completely miss it.   Completely !!
You weren't there to see how MAJOR this really was to each and every graduate and family member.  These folks go to school 4 hours each night after a full day of work for 2 years to reach this milestone.  It was inspiring to say the least !!
Oh yeah, I gave my ten minutes and got people pumped up and motivated about their future, but I took a cue from what was going on around me first.  Before I gave one thought of my remarks, I asked the audience to rise to their feet and give the graduates the loudest standing ovation they've ever given.  The rafters shook !!
People have already probably have forgotten my words during my ten minutes.  But, they will cherish the accomplishment they reached for a lifetime.  I was blessed to be a part of it all.
So, this week, look around you.  Catch a glimpse at the myriad of small accomplishments that happen every day.  Celebrate them !!  Cherish them !! Then note how truly impactful each one of them is !!